Cabinetry and countertop design & install 
KBU had a straightforward goal, modernity! The company was in need of a refresh and that included a timeless yet simple logo and a website that could evolve with the company. KBU was also looking to incorporate tools that helped streamlined its outdated sales process. 
The end result was a user-friendly website that was able to grow with the company, showcasing their recent work. We implemented a stunning gallery and project archive to inspire users. The creation of a proprietary kitchen and bath measurement form to guide buyers from start to finish. And an advanced form to collect important information for salespersons to move onto the next phase of the sales process.
This quote request form replaces one-third of the initial sales process by gathering preliminary answers to five commonly asked questions. This helps streamline the process and eliminates the need for customer responders to spend time answering these same questions repeatedly.
To better align with one of our original aims, we created a step-by-step guide to measuring any Kitchen & Bath. This form can be uploaded to the Quote Request Form or brought to a salesperson at the KBU showroom. By following this guide, purchasers can easily measure what they need and make an informed purchase decision.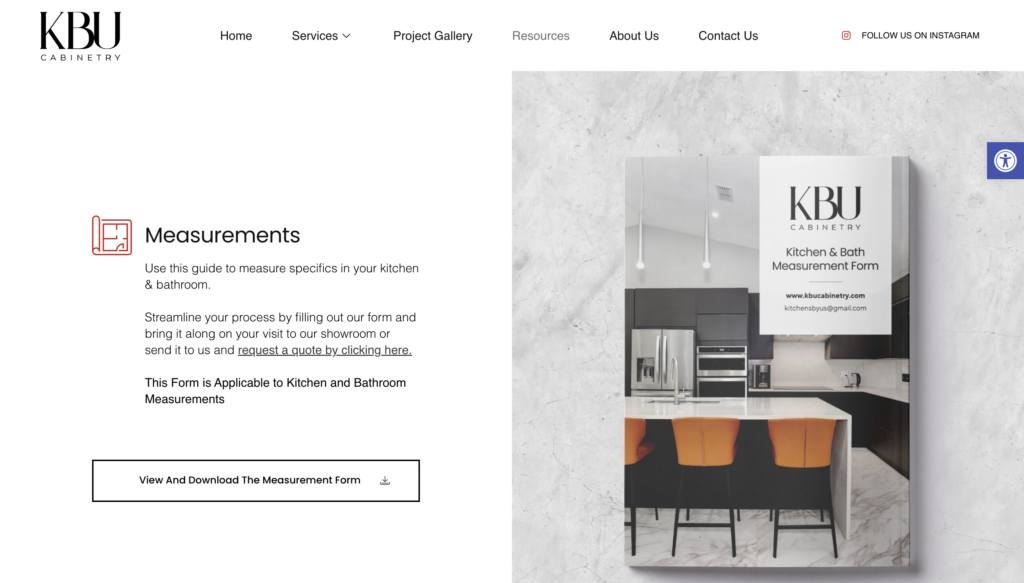 KBU needed a stunning portfolio and project archive to showcase their stunning recent work. Each project details Cabinetry and Countertop material used and product specifications. 

Book a free consultation to discuss your next project
We'll discuss your goals and share our insights and expertise on your project design, helping you with scoping, implementation or innovating your digital services.
*Includes a call at no cost for up to 30 min
christhyrivera@youramiga.com
+1 3212956673